By the Sure Dividend staff

Kinder Morgan (KMI) has been a favorite dividend growth investment for many retail investors, until the company cut its payout by three quarters two years ago. After two years of low payouts, during which the company focused on reducing debt levels and finishing projects, things are about to change soon. Kinder Morgan is one of 294 dividend stocks in the energy sector. You can see all 294 dividend-paying energy stocks here.
Kinder Morgan has aggressive dividend growth plans for the coming years, but unlike in the past, this time they look very achievable. The company is about to increase its dividend meaningfully soon, and investors will very likely benefit from ongoing strong dividend growth rates over the coming years.
Since Kinder Morgan is not trading at an expensive valuation at all, shares of the pipeline giant are worthy of a closer look right here.
Company Overview
Kinder Morgan is proud of its huge asset base, and rightfully so: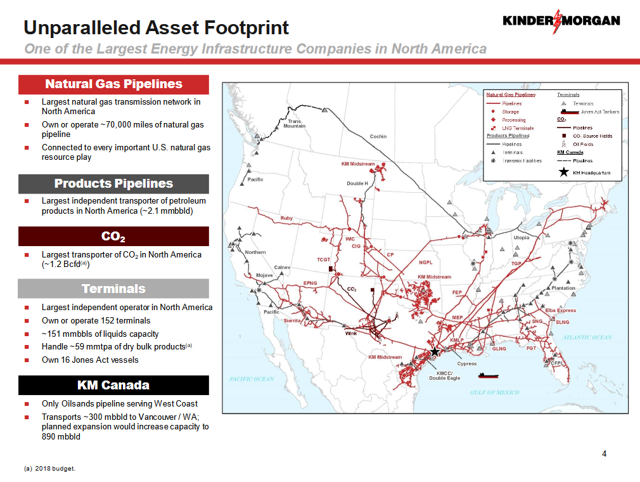 (company presentation)
The company operates a giant pipeline network spanning North America, with the focus being put on natural gas pipelines. Kinder Morgan also owns terminals, pipelines and oil production assets on top of its natural gas pipeline network.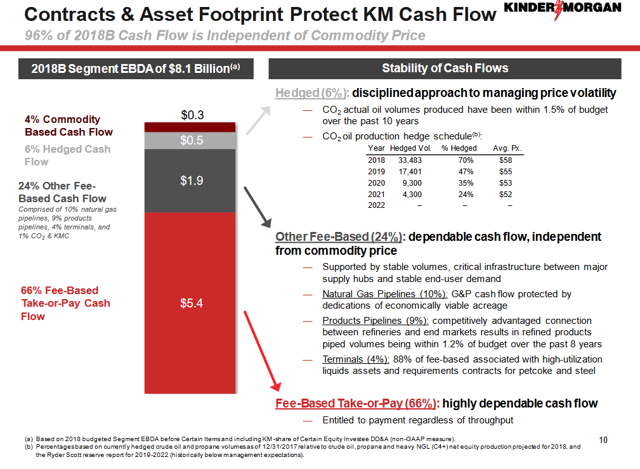 (company presentation)
The vast majority of Kinder Morgan's revenues are fee-based, which means that there is very low commodity price risk. The company's revenues, earnings and cash flows do not depend highly on the price of oil and natural gas. The only segment with a bigger exposure to the price of oil is Kinder Morgan's CO2 business. Kinder Morgan is hedging its revenues from that segment, though, thus the short-term price swings for WTI do not matter very much.
Due to the fact that Kinder Morgan is much less impacted by commodity price swings than other companies in the oil & gas industry, its cash flows are not cyclical at all.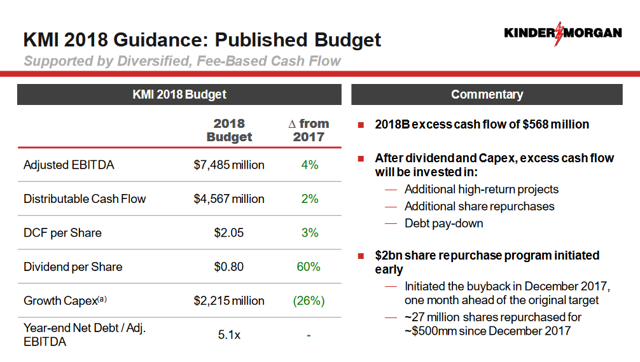 (company presentation)
During 2018 Kinder Morgan plans to increase its EBITDA as well as its distributable cash flows slightly. Distributable cash flows are operating cash flows minus the portion of capex that is needed to keep the assets intact (maintenance capex). Distributable cash flows are thus the portion of the company's cash flows that are not needed to maintain the business, those can be spend in several ways:
– Growth capex, which expand Kinder Morgan's asset base and lead to higher earnings / cash flows in the future.
– Shareholder returns via dividends & share repurchases.
– Debt reduction, which leads to lower interest expenses and thereby positively impacts the company's earnings and cash flows.
A couple of years ago Kinder Morgan has paid out almost all of its DCF in dividends and financed growth capex by issuing new shares and debt. That did not work very well once its share price collapsed, which was the reason for the dividend cut, as Kinder Morgan had to finance its growth projects organically from that point.
Right now Kinder Morgan is using its DCF for a combination of growth capex, dividends and share repurchases. The company has brought down its debt levels meaningfully already, but doesn't plan to reduce its leverage further this year.
Kinder Morgan Has Announced Aggressive Dividend Growth Plans Through 2020
In the last two years Kinder Morgan has produced about $2.00 per share in distributable cash flows, but paid out only $0.50 each year. This has allowed the company to finance billions in growth projects with excess cash flows whilst also paying down debt.
The company has stated that it wants to increase the dividend meaningfully this year as well as in 2019 and 2020:
– The dividend will be $0.80 for 2018 (which means a 60% raise year over year)
– The dividend will be $1.00 for 2019 (which means a 25% raise yoy)
– The dividend will be $1.25 for 2020 (which means a 25% raise yoy, again)
This looks like a very compelling dividend growth rate, especially when we factor in that Kinder Morgan's current dividend yield is not low at all: Based on a share price of $16.10, Kinder Morgan's shares yield about 3.1% right now. The forward dividend yields are thus 5.0%, 6.2% and 7.8% for 2018, 2019 and 2020, respectively.
A closer look at the company's dividend growth plans and cash flow generation shows that those plans are not unrealistic at all:
| | | | | |
| --- | --- | --- | --- | --- |
| Year | DCF per share | Dividend | Payout ratio | Excess DCF after dividend payments |
| 2018 | $2.05 | $0.80 | 39% | $2.8 billion |
| 2019 | $2.10 | $1.00 | 48% | $2.4 billion |
| 2020 | $2.15 | $1.25 | 58% | $2.0 billion |
Assumption: DCF grows by two percent a year
Even in a rather conservative scenario where distributable cash flows grow by only two percent annually, Kinder Morgan's payout ratio stays below 60% through 2020. At the same time the company would generate $7.2 billion in cash flows that are not needed to pay the dividends. Those cash flows could thus be utilized for growth capex, share repurchases or for paying down debt.
Kinder Morgan Has Significant Growth Potential
The scenario laid out above (2% annual DCF growth) is rather conservative due to the fact that Kinder Morgan plans to invest heavily into new assets over the coming years: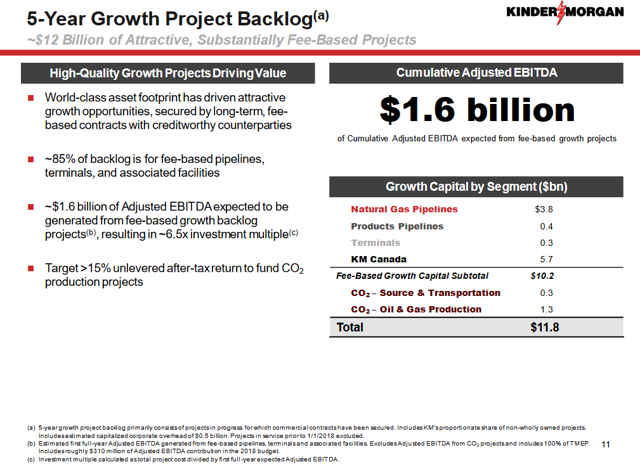 (company presentation)
Management has identified $12 billion of potential investments which fit the company's strategy and which promise attractive returns. The company could complete a meaningful amount of these projects in the coming years, as high after-dividend cash flows allow the company to spend on growth investments heavily.
According to management these assets could add $1.6 billion to the company's EBITDA, which means a 21% increase over 2017's level. When we assume that distributable cash flows would grow by 21% as well, Kinder Morgan's DCF per share could hit $2.40 in 2022. This calculation does not yet include the positive impact share repurchases would have on the DCF per share growth rate.
Kinder Morgan has recently started a $2 billion share repurchase program and has already bought back more than 27 million shares since December. At that pace Kinder Morgan's share count would drop by almost five percent a year, this alone would drive DCF per share up by mid-single digits each year, without any underlying organic growth.
Due to its focus on natural gas pipelines Kinder Morgan is well positioned for the future. Natural gas consumption will, according to most analysts, continue to grow for decades, as natural gas combines several positives: The commodity is significantly more environmentally friendly than oil and coal, it is inexpensive and it is available in North America in large quantities. Through LNG terminals natural gas can even be exported to other markets (primarily in Asia).
All the natural gas that gets used in the US or exported to foreign countries needs to be transported through the US by pipelines. Kinder Morgan as the provider of the vastest pipeline network should benefit from that trend, which will lead to ample cash flows for decades.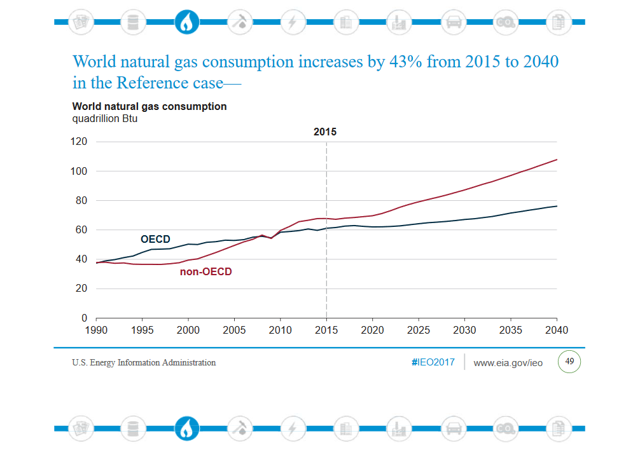 (eia.gov)
The US Energy Information Administration expects that global consumption of natural gas will grow from 130 quadrillion Btu to 190 quadrillion Btu through 2040. Since proved reserves of natural gas in the US are growing, it seems opportune to assume that the US will remain a major producer of natural gas going forward. This, in turn, means that Kinder Morgan's asset base will not only exist for a very long time, but will remain very profitable through the coming decades.
Kinder Morgan Is Trading At A Discount Price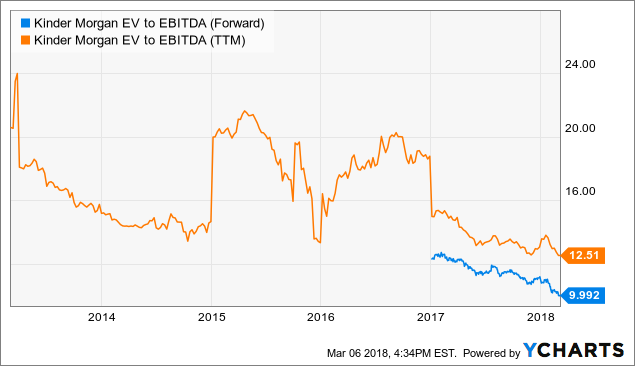 KMI EV to EBITDA (Forward) data by YCharts
Kinder Morgan is trading at the lowest valuation the company's shares have traded for over the last couple of years right now. With a forward EV to EBITDA multiple of about ten Kinder Morgan is also not looking expensive at all on an absolute basis.
When we focus on the cash flows the company generates, we see that Kinder Morgan trades at eight times trailing DCF and at slightly less than eight times forward distributable cash flows. This means that shares can be bought with a distributable cash flow yield of 12.7% right now. Kinder Morgan is a non-cyclical company which has a solid growth outlook, and at the same time its size and diversified asset base mean that there isn't a lot of risk. Based on those facts the current valuation looks pretty low.
Investors can currently acquire shares of the company with a forward dividend yield of 5.0% (the dividend increase announcement should come next month) at a DCF multiple of slightly below 8. For long term focused investors who seek an investment that provides a growing income stream that looks like an attractive investment case.
Final Thoughts
Kinder Morgan's failed dividend growth plans hurt many retail investors in the past, but management has learned from its mistakes. This time the dividend growth plans are well thought out and look very achievable.
Thanks to high cash flows and a big growth project backlog Kinder Morgan should be able to provide a steadily growing income stream over the coming years. This, combined with a low valuation, makes shares of the pipeline giant worthy of a closer look right here.
Are you looking for stocks with even longer histories of dividend growth than Kinder Morgan? Consider the Dividend Aristocrats and Dividend Champions, which have raised their dividends for 25+ consecutive years. Stocks with durable competitive advantages and growing dividends, like the Dividend Aristocrats and Dividend Champions, have been proven to outperform over long periods of time. See our full list of confirmed buy and sell recommendations with our service Undervalued Aristocrats, which provides actionable buy and sell recommendations on some of the most undervalued dividend growth stocks around. Click here to learn more.
Disclosure: I am/we are long KMI.
I wrote this article myself, and it expresses my own opinions. I am not receiving compensation for it (other than from Seeking Alpha). I have no business relationship with any company whose stock is mentioned in this article.
Related Posts: