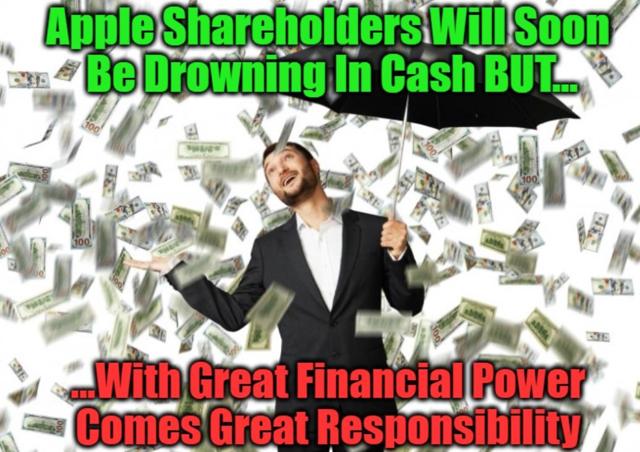 Source: imgflip
Few stocks have been as hot in the past year as Apple (AAPL), whose shareholders' have long been waiting for a repatriation holiday. With the passage of tax reform, those dreams are now finally going to be realized, potentially allowing Apple to repatriate hundreds of billions of dollars in foreign held cash.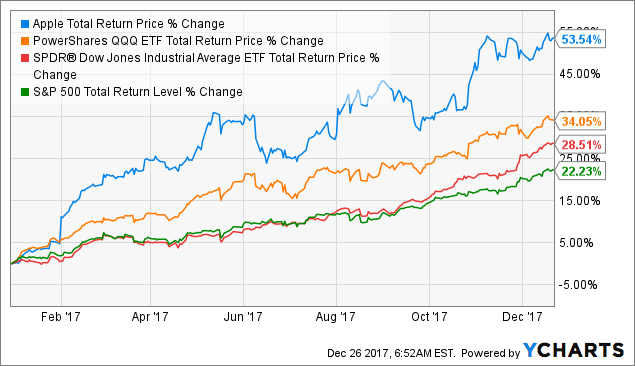 Of course, as Warren Buffett's Berkshire Hathaway (NYSE:BRK.A) (BRK.B), which is sitting on $90 billion in investable cash, has shown, having a mountain a money can both be a blessing and a curse. That's because it increases the risk that management may feel pressured to do something that ultimately squanders shareholder money.
In the coming months we're sure to see a bevy of pundits crawling out of the woodwork to pontificate on just how Tim Cook and company should spend the largest cash horde in corporate American history.
So let's take a closer look at the best, and worst, ways that Apple could, and will likely, spend this windfall. More importantly, find out whether or not today is still a good time to buy the stock of this future dividend growth legend, or if the train has already left the station.
The World's Largest Free Cash Flow Minting Machine
Apple's ability to continue growing its mountain of cash is nothing short of amazing. This is due to the world's strongest brand, which gives it industry leading profitability.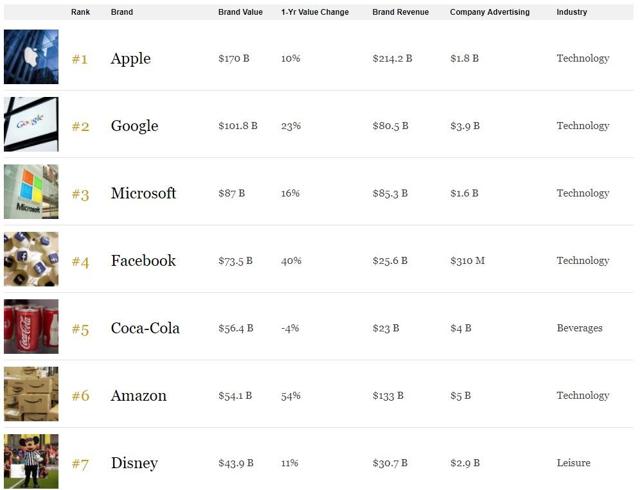 Source: Forbes
Most notably, Apple's free cash flow margin and returns on capital are testaments to management's long-term ability to allocate capital very efficiently, resulting in excellent long-term shareholder wealth compounding.
Apple Trailing 12 Month Profitability
| | | | | | | |
| --- | --- | --- | --- | --- | --- | --- |
| Company | Operating Margin | Net Margin | FCF Margin | Return On Assets | Return On Equity | Return On Invested Capital |
| Apple | 26.8% | 21.1% | 22.2% | 13.9% | 36.9% | 28.5% |
| Industry Average | 21.9% | 15.6% | NA | 9.4% | 28.4% | 24.7% |
Sources: Morningstar, Gurufocus, CSImarketing
The end result of Apple's highly popular and sticky ecosystem is that its cash pile has continued to grow despite the largest capital return program in history.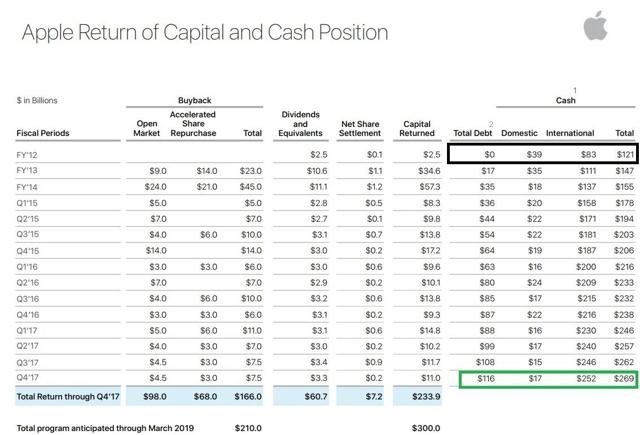 Source: Apple
In fact, Apple's free cash flow generating power is so great ($50.8 billion in the past 12 months) that even with $234 billion returned over the past five years, the company's cash position has grown by $148 billion.
Better yet? Despite returning an epic $45.7 billion in buybacks and dividends in the past year, those returns result in a total FCF payout ratio of just 89.9%, which is why the cash pile continues to steadily grow.
Of course, with 93.6% of the cash held overseas, Apple was unable to repatriate this money without paying a hefty 35% repatriation tax. However, with tax reform now offering a 15.5% repatriation rate, and a shift to a territorial corporate tax system, this means that Apple's days of hoarding cash overseas are likely at an end.
In fact, if the company were to repatriate all its overseas money (not likely), that would be $213 billion that would suddenly open up, and bring the company's total domestic cash position to $230 billion.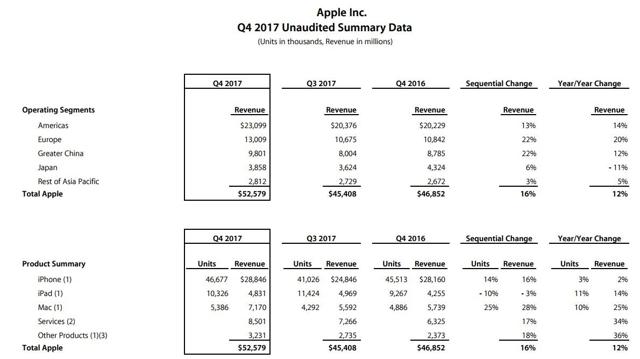 Source: Apple
And given that Apple continues to see strong growth in all its businesses and geographical areas (other than Japan), this mountain of money isn't likely to start shrinking anytime soon.
Which brings us to the potential problems that so much money can create. Because while the largest cash position in the world is certainly a great problem to have, it also could put increasing pressure on management (from activist investors), to "do something."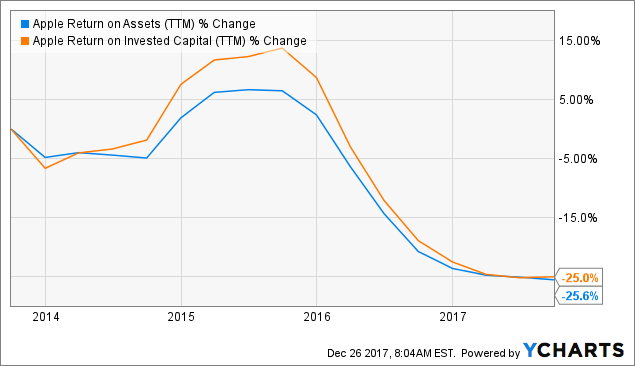 That's simply because so much cash sitting on the balance sheet earning almost nothing will over time cause the company's returns on capital to decrease.
So what exactly is Apple likely to do with its cash? More importantly, what should it do And avoid doing at all costs? Let's take a closer look at the five options Apple has, in order of most to least beneficial to long-term shareholders.
#1: Buying Back Even More Stock
Historically, Apple has overwhelmingly favored buybacks, with 71% of its total capital return spending taking this form since 2012. Of course, for most of that time Apple's shares have been highly undervalued, thanks to Wall Street's pessimism about its future growth prospects.
However, in the past year, Apple stock has crushed the S&P 500, the Dow Jones Industrial Average, and even the tech heavy Nasdaq. So does that mean that shares are now overvalued and that investors (and the company) should avoid buying Apple stock today?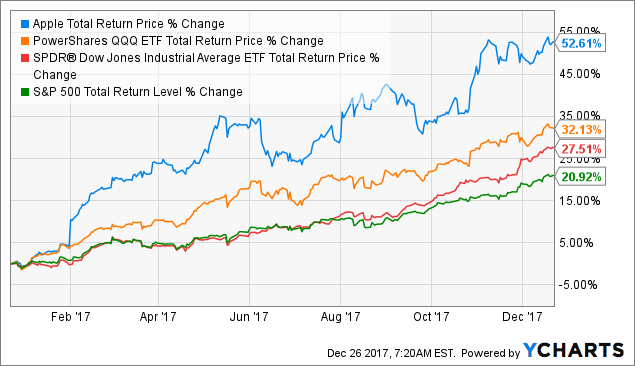 Not necessarily. Because if we take a big picture view of the company's valuation, we find that Apple may indeed still be a good buy today.
| | | | | | |
| --- | --- | --- | --- | --- | --- |
| Company | Forward PE | Historical PE | Yield | Historical Yield | Percentage Of Time Yield Has Been Higher |
| Apple | 15.4 | 15.3 | 1.4% | 1.8% | 85.4% |
| Industry Median | 20.9 | NA | 2.0% | NA | NA |
| S&P 500 | 18.8 | 14.7 | 1.8% | 4.3% | NA |
Sources: Gurufocus, Multpl.com, Yieldchart
That's because the company's forward PE ratio is actually around its historical average, much lower than either the industry median, or the S&P 500's forward PE ratio.
However, it is true that as a dividend stock Apple's yield is rather paltry. That's both compared to the industry median, the S&P 500, and the stock's own historical yield.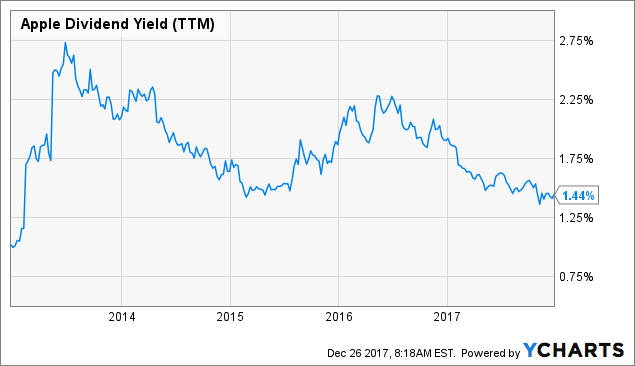 In fact, Apple's yield is currently near a three-year low, and since it restarted the dividend in 2012, Apple's yield has been higher about 85% of the time. So we have some contradictory signals. Apple either appears attractively valued, or way overpriced, depending on which backwards looking metric you use.
Of course, all profits and dividends are ultimately derived from the future, which is why I also like to take a long-term (20-year) view, by using a discounted free cash flow model.
| | | | | | |
| --- | --- | --- | --- | --- | --- |
| TTM FCF/Share | 10 Year Projected FCF/Share Growth | FCF/Share Growth Year 11-20 | Fair Value Estimate | Growth Baked Into Current Share Price | Discount To Fair Value |
| $9.67 | 5% (conservative case) | 4% | $155.42 | 6.8% | -9% |
| | 7% (likely case) | 4% | $174.47 | | 3% |
| | 9% (bullish case, analyst consensus) | 5% | $200.26 | | 18% |
Sources: FastGraphs, Morningstar, Gurufocus
While true that such projections are not without their issues (they require educated guesstimates about the smoothed out future growth rate), such an analysis can also give us an approximate estimate of a company's fair value based on a company's likely future cash flow.
I use a 9.0% discount rate because historically (since 1871), this is the net total return (after expenses) that a S&P 500 ETF would have generated. Thus I consider 9.0% to be the long-term opportunity cost of money.
Because of the uncertainty surrounding long-term growth rates in a highly competitive industry such as this, I use a variety of growth scenarios. Underpinning these are Apple's strong penchant for buying back shares, (4.1% annually over the past five years).
This strong pace of buybacks, which repatriated cash is likely to keep at similar levels, means that even with relatively modest sales growth Apple's EPS and FCF/share can continue growing far more strongly.
Based on what I consider the most likely growth scenarios, I estimate that Apple shares are actually trading close to fair value. And based on the Buffett principle that "it's better to buy a wonderful company at a fair price than a fair company at a wonderful price," that means that, at least in a vacuum, Apple remains a justifiable buy today.
Of course, if analysts are right that Apple's growth will be far more impressive, than shares are actually substantially undervalued. Which is why I expect Apple's largest use of repatriated cash to continue to mostly focused on share buybacks.
The good news is that Apple hasn't been a blind buyer of its shares, but rather has acted responsibly and opportunistically purchased more shares when its price was lower.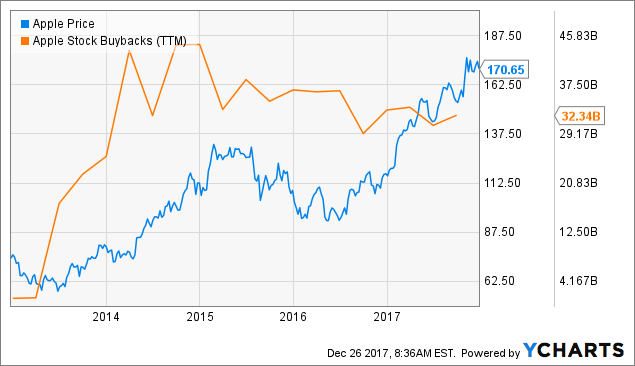 For example, in 2014 when shares where particularly suffering, the company greatly accelerated its buyback program. This means that, while Apple is likely to massively increase its buyback authorization in 2018, it might not actually put this "dry powder" to use should shares rise too high.
#2: Faster Dividend Growth
| | | | | | |
| --- | --- | --- | --- | --- | --- |
| Company | Yield | TTM FCF Payout Ratio | 10 Year Projected Dividend Growth | 10 Year Potential Annual Total Return | 10 Year Potential Yield On Cost |
| Apple | 1.4% | 25.1% | 9% to 15% | 10.4% to 16.4% | 3.4% to 5.8% |
| S&P 500 | 1.8% | 50.0% | 6.1% | 7.9% | 3.3% |
Sources: Gurufocus, FastGraphs, CSImarketing
As a dividend growth investor obviously I love it when companies raise their payouts at a brisk pace. And given that Tim Cook has said that the company will raise its dividend every year, this means that Apple represents a potentially wonderful long-term income growth investment.
That's because the company's extremely low FCF payout ratio means that it can effectively continue raising its dividend at its recent double-digit pace for the foreseeable future. Of course that pace was set back before tax reform changed the game when it came to how much potential domestic cash Apple will have to work with going forward.
In fact, Apple Analyst Gene Munster predicts that Apple will ultimately repatriate $214 billion over the coming years broken down like this:
Buyback reauthorization increase: $69 billion (spread out over next three years)
Dividend growth rate through 2022: 15%
A potential 50% increase in its dividend growth rate would certainly be a huge win for dividend-loving Apple shareholders as it potentially means that the 10-year yield on cost would end up 5.8%. In other words, while Apple's yield today is not impressive, patient long-term investors can potentially expect shares bought today to prove to be strong income generators in the future.
Of course that assumes that Apple does accelerate its dividend growth rate, and keeps it higher for the next decade. However, that's actually a highly realistic scenario. That's because, assuming a conservative $30 billion a year in annual operating cash flows, this means that even with accelerated buybacks and dividend growth, Apple's ending cash balance at the end of 2022 would be about $270 billion.
That means that even if Apple were to boost its buyback authorization to $235 billion (including the remaining $166 billion it has now), and massively increases its dividend growth rate, the company's immense rivers of free cash flow would mean that it still wouldn't make a substantial dent in its money pile.
However, a 15% dividend growth rate should be more than sufficient to ensure that Apple continues to deliver market beating total returns.
#3: Paying Back Debt
Over the past five years Apple has become one of the biggest corporate bond issuers in the world, taking on $116 billion in debt to fund its capital returns.
So naturally many assume that the company's enormous coming repatriation will be used to pay back much of and perhaps all of this debt. And given that almost all of Apple's debt is callable, this is certainly a possibility. However, I don't actually think this is likely, or in fact, necessary.
That's owing to Apple's still rock solid balance sheet, which gives it one of the top investment grade credit ratings in America.
| | | | | | |
| --- | --- | --- | --- | --- | --- |
| Company | Debt/EBITDA | EBITDA/Interest | Debt/Capital | Current Ratio | S&P Credit Rating |
| Apple | 1.51 | 33.0 | 38% | 1.28 | AA+ |
| Industry Average | 1.47 | 27.1 | 24% | 0.53 | NA |
Sources: Morningstar, FastGraphs, SimplySafeDividends, CSImarketing
That means that Apple's average effective interest rate of 2.0% hardly makes it a priority to pay down its debt. That's especially true given that under tax reform companies can still write off 30% worth of EBITDA of interest. Starting in 2022 that changes to 30% of EBIT. However, as you can see, Apple's $2.3 billion a year in interest expense is a tiny fraction of its enormous cash flows.
| | |
| --- | --- |
| Interest/EBITDA | Interest/EBIT |
| 3.0% | 2.9% |
Sources: Morningstar, SimplySafeDividends
That means that it just doesn't make much financial sense for Apple to pay off its debt at an accelerated pace.
#4: Major Acquisitions
More buybacks, accelerated dividend growth, and paying off debt have generally been the top methods that investors have expected Apple to use its tax windfall. However, there are more speculative ways that the company could put that cash to work.
One such method would be through massive acquisitions. Over the years analysts have speculated that Apple can or even should buy the following companies:
PayPal

(PYPL): $88.8 billion market cap
Netflix (NFLX): $82.2 billion
Tesla (TSLA): $54.7 billion
Activision Blizzard (ATVI) $48.8 billion
Pandora (P): $1.2 billion
While a superficial argument about why such acquisitions make sense can be made, in reality big, splashy purchases are just not Apple's style.
For example, while Apple has done a total of 92 acquisitions over the decades, none have been larger than its 2014 $3 billion purchase of Beats Electronics. This is actually great news since, according to the National Bureau of Economic Research, 87% of large scale acquisitions end up destroying shareholder value.
This is why I expect Apple to continue to make relatively small bolt-on acquisitions, such as the $400 million purchase of Shazam. This purchase may not be a "game changer" but that's not what Apple needs.
Rather Shazam adds 120 million customers to Apple's music database and will hopefully be incorporated into Apple Music, which has just over 30 million monthly subscribers. It's also what Apple needs to stay competitive with industry leader Spotify (Private:MUSIC), which has 65 million monthly subscribers and is growing twice as fast.
And keep in mind that even Apple Music's large recurring subscription base is essentially a drop in the bucket for Apple. That's because even assuming that all those users are on the standard $9.99/month plan (student plan is $4.99 and family plan $14.99), Apple Music only represents about 10% of Apple's total service revenue, or about 1.3% of total company sales.
However, Apple's focus isn't necessarily on moving the needle with any acquisition. Rather it wants to continue improving its ecosystem and locking in customers into its iPhone walled garden.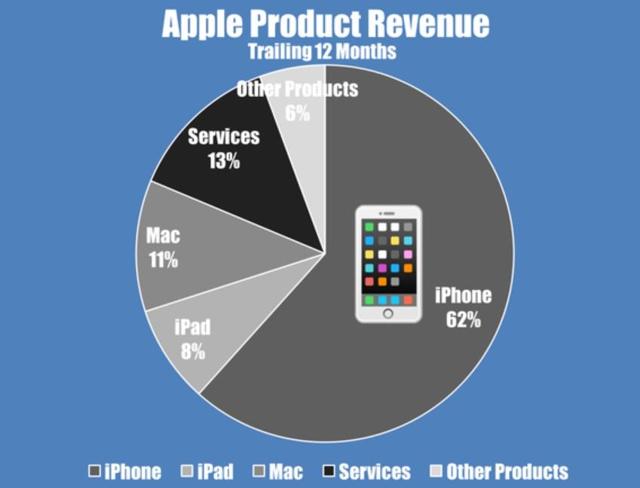 Source: Motley Fool
This is because, for the foreseeable future, the iPhone will remain the company's cash cow. Thus maintaining or growing the loyalty of its installed base is the key to the company's growth plans.
That's especially true given the rapid growth of its services business, (34% YOY). If Apple can continue improving its ecosystem and maintain approximately the same global market share it has now, then a steadily growing user base will mean much greater service revenues in the future. In fact, over the past year Apple's service sales have been about $25 billion, and are well on their way to hitting $50 billion in 2020.
That includes a lot of recurring, subscription-based sales and cash flow, just what Apple needs to keep its epic cash return program humming along for years to come.
#5: Special Dividend
The biggest worry I have about Apple's repatriation isn't some ill conceived and massively overpriced acquisition. Rather my concern is that management will feel pressure to pay a large special dividend.
After all, the company is such a FCF machine that even if it greatly accelerates the pace of buybacks and dividend growth, its cash position isn't likely to shrink much, if at all, in the coming years. That's especially true given that the iPhone X is expected to create another record-smashing holiday quarter for the company, which will likely result in another strong full year of top and bottom line growth.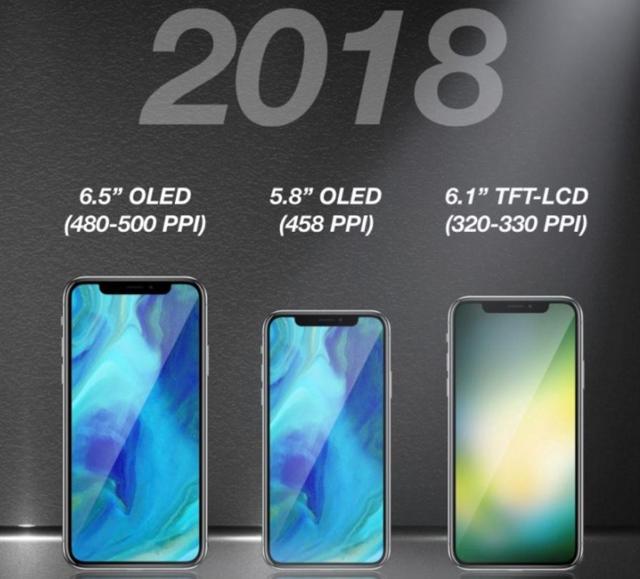 Source: KGI Securities
Meanwhile according to well respected (and historically accurate) analysts at KGI securities, in 2018 Apple is expected to roll out an even better lineup of phones. That includes upgraded and enlarged screen versions of the iPhone and iPhone Plus, as well as an even larger version of the new current flagship, which analysts are dubbing "the iPhone X Plus."
In other words, Apple's next few years are potentially set to see stronger than average top line growth. And with ever rising average selling prices on its phones (iPhone X Plus likely to cost $1,100 to $1,150 to start) its earnings and free cash flow is likely to continue rising to ever more stratospheric levels.
This means that even if Apple were to increase its capital return program by over 50% in April or May of 2018, as analysts currently anticipate, the company's cash pile could continue to grow.
So why is this my biggest fear? Why shouldn't dividend investors cheer at the prospects of a potential $15 to $20 per share special dividend? After all, if you have owned Apple a long time, and have accumulated a substantial share count (say 1,000 to 10,000 shares), then this could potentially represent a $20,000 to $200,000 windfall.
However, unlike regular dividends that grow steadily over time and represent recurring income that investors can count on (and which generally cause share price appreciation in line with dividend growth), special dividends are far less advantageous.
This is for two reasons. First, unlike regular dividends which are qualified, special dividends are generally treated as returns of capital by the IRS. While this can be a great benefit to those who plan to own Apple for decades (ROC lowers your cost basis and so represents deferred taxes), it's a benefit that's generally lost on shares held in a tax-deferred account.
More importantly, the share price will be adjusted down by the exact amount of the special dividend on the ex-dividend date, meaning that special dividends don't represent any benefit to long-term shareholders.
Rather it would be a large permanent reduction ($79 to $105 billion assuming a $15 to $20 special dividend) in the company's cash. That means that any amount paid out as a special dividend can't go to share repurchases, which permanently increase FCF/share and thus allows longer, stronger regular dividend growth.
And since studies show that total returns for dividend growth stocks generally follow the rule: yield plus long-term dividend growth, a special dividend would be a permanent reduction in the company's long-term total return potential.
Bottom Line: Apple Has The Best Problem In The World Right Now
Don't get me wrong, I'm in no way arguing that Apple is likely to squander its repatriation windfall. After all, management has shown itself to be incredibly disciplined with its capital allocation, and has thus far avoided making huge mistakes.
This is why I think it's likely that in the Q2 annual capital return update we're likely to see a major doubling down on buy back authorizations. That's especially true given that Apple shares, despite the epic rally of the past year, are trading at fair value or slightly below.
In addition, I expect that we could get a substantial increase in the rate of future dividend growth, simply because Apple's cash hoard is too large for the company to reinvest and generate anywhere near the returns on capital it has achieved in the past.
This means that Apple's status as a great dividend growth stock is likely to increase substantially in the years ahead. However, while shares are still potentially a good buy, personally I plan to wait for a market downturn before adding this Grade A income growth blue chip to my own high-yield retirement portfolio.
Disclosure: I/we have no positions in any stocks mentioned, and no plans to initiate any positions within the next 72 hours.
I wrote this article myself, and it expresses my own opinions. I am not receiving compensation for it (other than from Seeking Alpha). I have no business relationship with any company whose stock is mentioned in this article.
Related Posts: