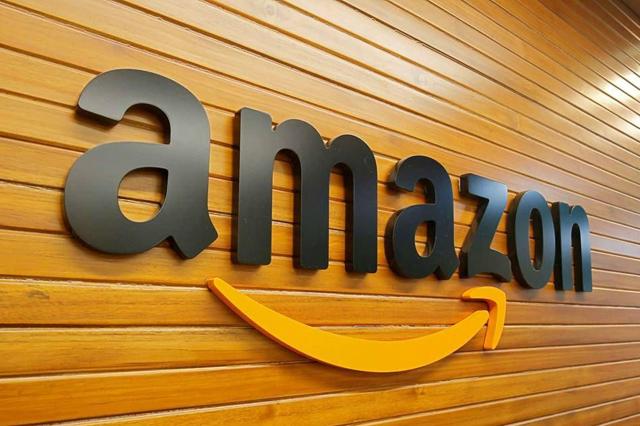 Source: ABS-CBNNews.com
Amazon Is What Worries Me About The Markets
Amazon (AMZN), the A in FANG got rocked Friday, as the company reported "disappointing" results. The stock traded down by nearly $200, more than 10% intraday, before closing lower by roughly 8%. The troubling fact is that Amazon is now down by 20% from its all-time high of $2,050, and the decline could get a lot worse from here.
Amazon 1-Year Chart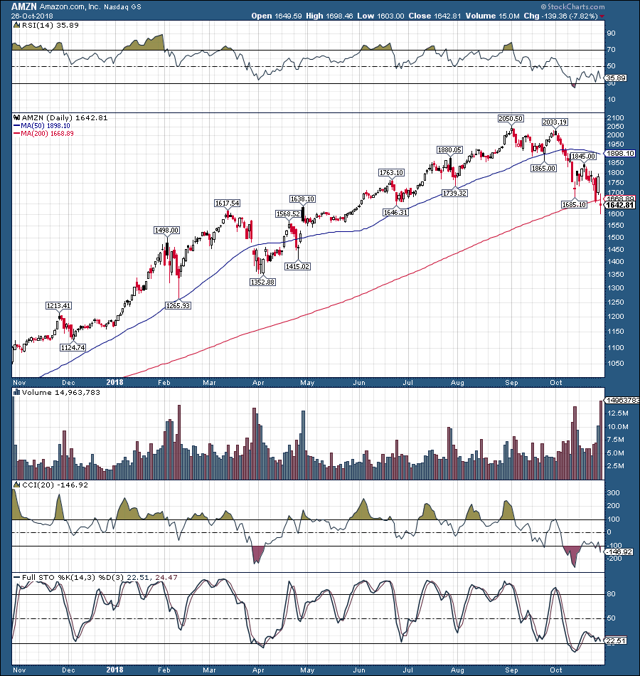 Source: StockCharts.com
Another concerning factor is that Amazon is not alone in reporting lower than expected revenues, or subdued growth relative to expectations. High-flyers like Facebook (FB), Netflix (NFLX), Alphabet (GOOG) (GOOGL), and others have all reported disappointing results in recent quarters. In fact, the entire FANG sector appears to be stumbling, and it could drag the entire stock market down when it falls.
Amazon's Report: Far Less than Stellar this Time
Amazon is still very much a growth story stock. The company is trading at a nose bleeding 95 times this year's projected earnings estimates. Ironically, the company's EPS figures matter far less than Amazon's revenue figures and forward guidance. But unfortunately for shareholders Amazon failed to meet expectations regarding both fronts.
Revenue came in at $56.6 billion, missing estimates of $57.1 billion.
YoY revenue increased by 29%, yet international revenue rose by just 13%.
AWS revenue also fell short, coming in at $6.68 billion vs $6.71 billion estimates.
EPS beat estimates $5.75 vs estimates of $3.14.
Now the Really Bad News
Forward guidance was atrocious. The company guided Q4 revenues and operating income substantially lower than most analysts were expecting.
Consensus estimates were $73.79 billion, and the company guided to a range of just $66.5-72.5 billion.
Also, the company guided for much lower operating income, only $2.1-3.6 billion vs estimates for $3.9 billion.
So, after quarters and quarters of smashing revenue estimates, and providing higher than expected guidance, the opposite is now beginning to happen. So, is this just a one off, or could growth at Amazon be slowing?
I think it's the latter, growth is slowing, and Amazon is not alone. In fact, all the FANGs have reported slower than expected growth in one form or another throughout the past couple of quarters. The problem is that Amazon is so richly valued that its current valuation may not support the stock with a slower growth rate, and the share price could buckle.
The company guided for $66.5-72.5 billion in Q4, this is roughly a YoY growth rate of just 10-20% compared to $60.5 billion delivered in Q4 2017. Also, if we factor in growth in AWS revenues, revenue growth in Amazon's core segment could be sub 10%, single digits next quarter. Does this growth trajectory really warrant a 95 P/E multiple?
Valuation: Far Too Rich to be Missing Estimates
Right now, Amazon is trading at about 95 times this year's projected estimates. The problem is that this is an extremely rich valuation, and requires Amazon to execute almost flawlessly when it comes to revenue growth.
Unfortunately, growth is slowing. This year revenue growth should come in at about 32%, next year it's projected to come in at 22%. However, next year's projections could be optimistic, and judging by the company's forward guidance growth is likely to be substantially lower next year.
In fact, lower end estimates call for growth of only about 15% next year, and based on Q4 guidance and other factors I believe Amazon's growth will slow down to around this level. The problem for Amazon is that at 95 times earnings and with revenue growth at just 15% and slowing, the company is extremely overvalued right now.
Did You Think The Good Times Would Last Forever?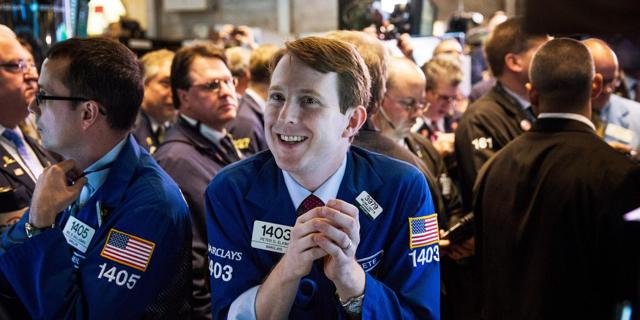 Source: iBankCoin.com
Rates are rising, growth is slowing, consumer spending will be impacted, and Amazon is not immune from a broader market slowdown. However, the stock has been a "can do no wrong" Wall St. darling for years now. Also, investors have been willing to pay just about any price to own the growth that Amazon delivered. Conversely, now that growth is slowing substantially, the stock could take a very big hit.
The remarkable thing is that Amazon's stock price could be cut in half, but even with the stock at just $820 the company will still be trading at over 47 times 2018's projected EPS. Still grossly overvalued by just about every traditional valuation metric.
The Challenge for The Market: Amazon is Not Alone
It would be one thing if Amazon was alone in showing cracks in its growth story, as well as in the sky-high valuation narrative. But it's not, in fact, every member of FANG has now shown signs of a disappointing trend developing in the past couple of quarters.
F – Facebook: Reported an extremely discouraging quarter in July where user growth disappointed by 50%.
A – Amazon: Just reported weak revenues, and much lower guidance than expected going forward.
N – Netflix: Disappointed substantially on subscriber growth (by far the company's most important metric) in Q2 of this year.
G – Google: Just days ago Alphabet disappointed on revenues as well, delivering just $33.7 billion vs estimates of $34.04 billion.
The problem for the various high growth/high multiple stocks (not just FANGs) is that substantial growth must be sustained to justify their incredibly rich valuations. Now that growth appears to be faltering, many high-flying stocks could experience significant declines.
This is a serious issue for the broader stock market as well. FANG has been the leader that has spearheaded this bull market stampede substantially higher in recent years. However, now that all the FANGs are showing serious signs of a slowdown their stock prices could potentially go a lot lower, and the broader stock market could decline much further as well. Just like FANGs led stocks on the way up, they could very easily lead stocks on the way down also.
Charts Look Terrible
Three out of the four FANGs are already in bear market territory, excluding only Alphabet. Moreover, all the declines began well before the S&P 500 peaked, which is even more troubling. This stealth bear market in FANGs appears to have started months ago, and it is now dragging down the broader market as well.
Facebook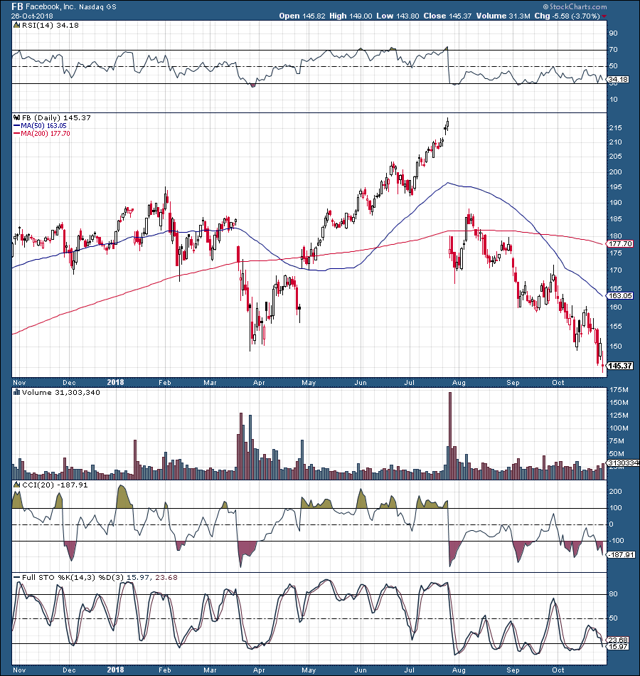 Amazon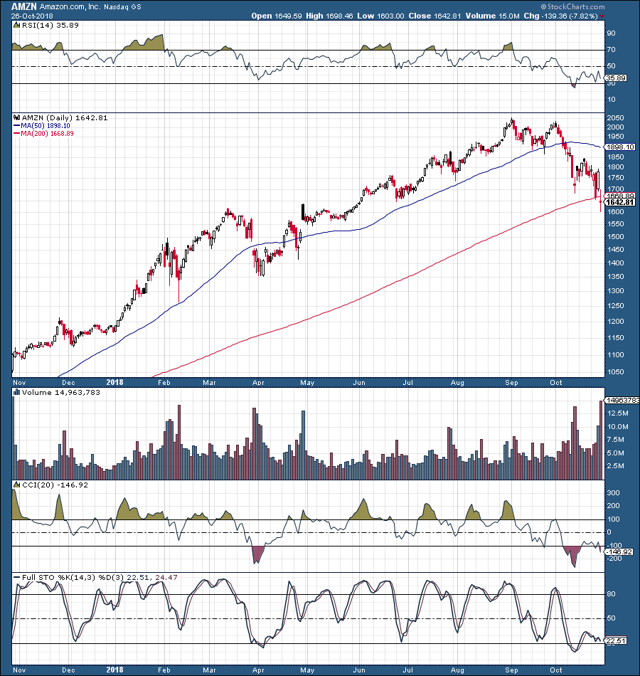 Netflix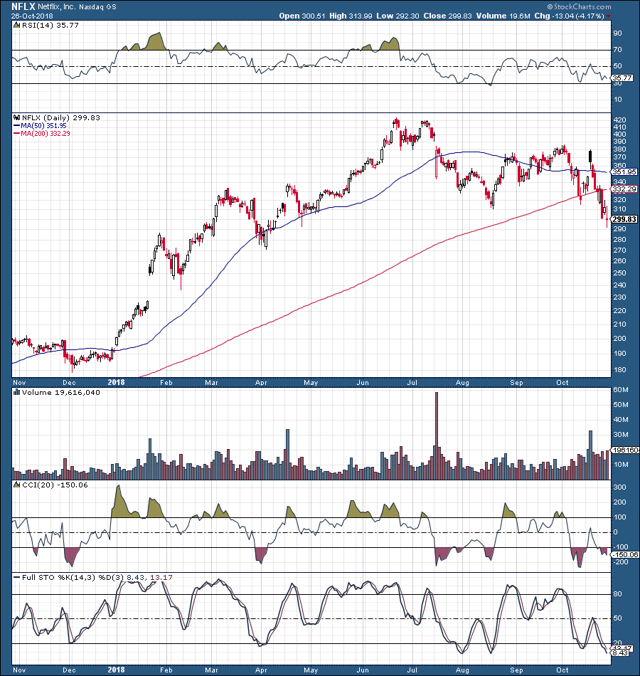 Google

There Could Be A Lot More Pain Ahead
The bottom line is that Amazon's revenue miss and lower guidance is deeply troubling. This is the stock that has arguably been the single strongest leader in this bull market. Furthermore, this is not just a "one-off", as the company both missed estimates and guided substantially lower. Therefore, this could be a developing trend and significantly lower growth is plausible for Amazon going forward.
Moreover, it's not just Amazon, all the FANGs and many other high flying/high multiple names are showing signs of faltering growth. In fact, many high growth names are illustrating comprehensive signs that growth is slowing relative to expectations. The problem is that this clashes with the expanding GDP numbers, and the overall narrative that the economy is doing "great".
I don't believe the economy is doing so great. I believe the GDP numbers are a mirage brought on by late cycle fiscal, and tax stimuli. Once their effects wear out, the economy could stall due to significantly higher interest rates, incredibly high debt levels, and other growth inhibiting factors.
In fact, Amazon, FANGs, and many other companies are already beginning to show signs of strain, and are likely to face further growth issues in the near and intermediate term. This makes Amazon's stock price appear substantially overvalued here. Therefore, there could be a lot more pain ahead for Amazon, as well as for other high multiple stocks in general going forward.
Thank you for taking the time to read my article. If you enjoyed reading it, feel free to press the "Like" button, and if you'd like to be notified about my future ideas, hit the "Follow" link.
Disclaimer: This article expresses solely my opinions, is produced for informational purposes only, and is not a recommendation to buy or sell any securities. Investing comes with substantial risk to loss of principal. Please conduct your own research, consult a professional, and consider your investment decisions very carefully before putting any capital at risk.
Want more? Want full articles that include technical analyses, trade triggers, trading strategies, portfolio insight, option ideas, price targets, and much more? To learn how to best position yourself for a rally in Amazon please consider joining Albright Investment Group.
Subscribe now and receive the best of both worlds, deep value insight coupled with top-performing growth strategies.

Enjoy access to AIG's top-performing portfolio that has outperformed the S&P 500 by 40% over the past year.

Take Advantage of the limited time 2-week free trial offer now and receive 20% off your introductory subscription pricing. Click hereto learn more.
Disclosure: I am/we are long GOOG, FB, NFLX.
I wrote this article myself, and it expresses my own opinions. I am not receiving compensation for it (other than from Seeking Alpha). I have no business relationship with any company whose stock is mentioned in this article.