Looking for a dependable high-yield vehicle? The management at USA Compression Partners LP (USAC) have maintained the company's $.52 quarterly through previous boom and bust cycles:

(Source: USAC site)
If you've ever researched how natural gas gets pulled out of the ground, you've already discovered that compression is an increasingly important part of the operation. Compression also is a vital element in shale fracking production, which requires more compression than traditional techniques.
Although you wouldn't know it from its current low price, which is near its 52-week low, USAC is in a good place now – demand for its large horsepower units is robust, and the major acquisition it made of the assets of CDM in early 2018 put it into a dominant position in its industry.
Management referenced this on the recent Q3 '18 earnings call:
"The overall market for compression services remains very strong, driven by solid natural gas fundamentals and the continually midstream infrastructure buildup, which does not just combine to one region, but rather it's taking place across the country in areas which we operate. We continue to take advantage of the strong market to push through rate increases while prudently investing capital in the business. Our utilization metrics demonstrate the current strength of the market and we expect continued strength throughout 2019, based on the current visibility for compression services demand."
Natural gas has multiple drivers – increasing utilization as a replacement for coal at power plants, LNG exports, exports to Mexico, and demand as a feedstock for petrochemical companies, which continue to ramp up their presence in the US, in order to take advantage of larger natural gas supplies: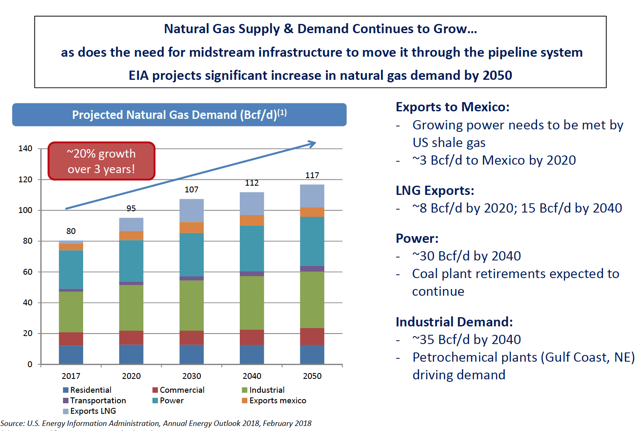 (Source: USAC site)
Many have posed the age-old question, "Does size matter?" with advocates on both sides of the argument.
However, when it comes to the scintillating world of compression, size does matter, and here's where USAC has a distinct advantage over its competitors. The trend is toward outsourcing, particularly for large equipment, which tends to be "sticky" – it's expensive for a customer to demobilize this type of equipment, ($60K – $200K plus), which promotes longer contracts and increasing prices for USAC.
"The market for large horsepower equipment has remained very tight as we've experienced throughout the entire year. Demand continues to be especially strong for the very largest horsepower categories in which USA Compression specializes."
"Compression – the way forward continuing to outsource actually is trending to accelerate. So, I think you're actually in a very unique time right now that you've got limitations on access to capital, you've got limitations on access to people and you have limitations on access to new equipment. So, all of those three things together can provide for a perfect storm which we think plays well to our strength of large horsepower infrastructure equipment and will allow us to re-price our book upward over time."
"We're in the equivalent of a seller's market right now where there is a lot of demand and not a lot of supply." (Source: Q3 call)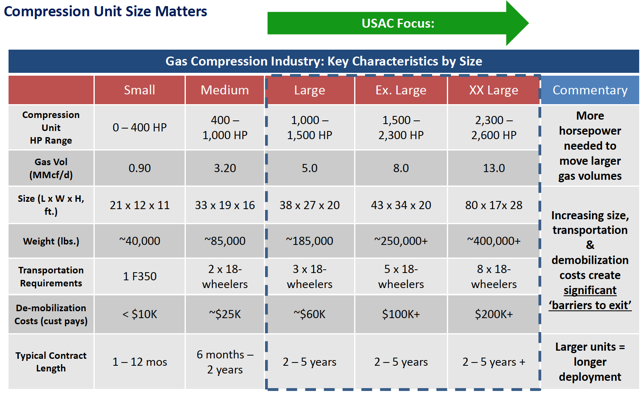 (Source: USAC site)
Looking forward, USAC should be able to capitalize on a better pricing environment: "When we look at the spot pricing on the new units we're deploying, 120,000 some odd horsepower for next year, these are extremely attractive new unit economics, effectively five-year or less cash on cash type of payouts, low 20s, IRR on an levered type of basis." (Source: Q3 '18 call)
Distributions:
USAC's next distribution should have an ex-dividend date sometime in early February. It pays in the usual Feb/May/Aug/Nov LP cycle for LPs, and issues a K-1 at tax time. At a $13.50 price/unit, USAC yields 15.56%, with trailing coverage of 1.02X.

DCF coverage was just 1.01X in Q3 '18. However, moving forward, management sees additional cost savings synergies from the CDM deal kicking in for 2019, as it finalizes the transition. The entire 900 employees of the company are now using the same customer, contract and asset data systems. This should improve coverage going forward, in addition to forward price increases.

No More IDR's:
USAC closed on the CDM deal on 4/2/18. CDM was the compression services arm of Energy Transfer Partners LP, and Energy Transfer Equities, which merged into Energy Transfer LP (ET). CMD was valued at ~ $1.8B.
This deal included the following:1. The contribution of ETP's subsidiaries, CDM Resource Management LLC and CDM Environmental & Technical Services LLC, to USAC.2. The cancellation of the incentive distribution rights in USAC.3. The conversion of the general partner interest in USAC into a non-economic general partner interest. As part of the transaction, ETE acquired the ownership interests in the general partner of USAC, and approximately 12.5 million USAC common units from USA Compression Holdings.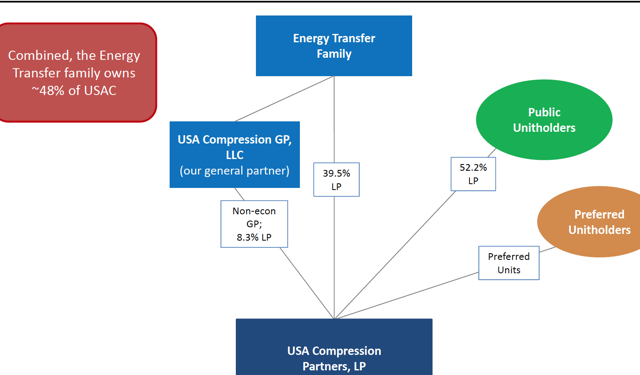 (Source: USAC site)
Earnings:
This table illustrates the impact that the CDM deal has had on USAC's operations. It was transformative, ramping up revenue and EBITDA by well over 100% and DCF by over 54% in Q3 '18, while Q2 '18 saw even larger increases.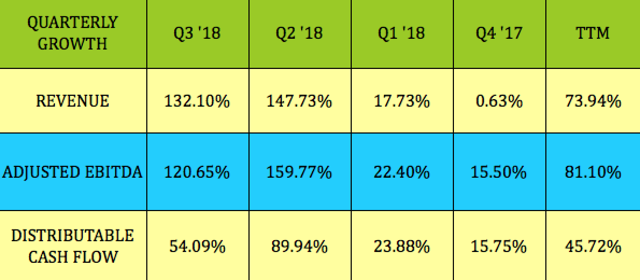 USAC had a larger than normal number of legacy CDM field technicians after the CDM deal closed, and also used outside parties to perform routine maintenance on some compression units, which was much more expensive than using internal personnel. It took a while to find the right caliber of technicians, due to a strong marketplace environment, but they've fixed the situation, and upgraded their staff talent level.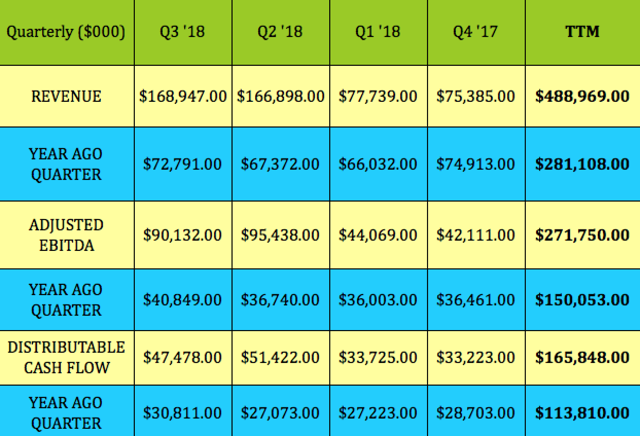 USAC's coverage has improved dramatically over the past four quarters, rising from a sub-par .87x (when the GP was relinquishing IDR rights to support the payouts, up to 1.09X in Q2 '18, and averaging 1.02x over the past four quarters).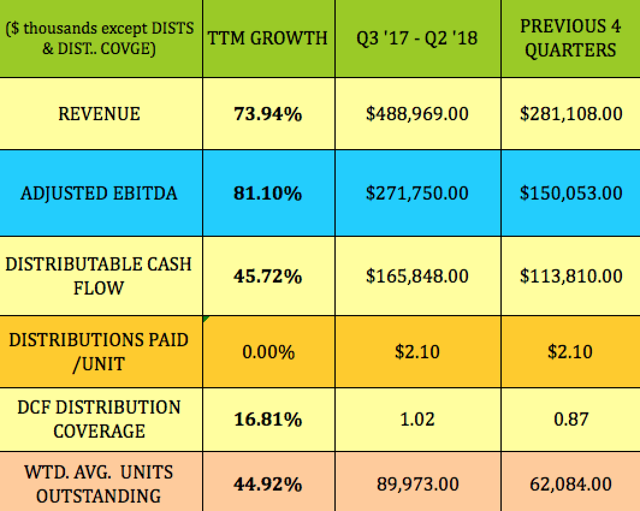 Looking forward to 2019, if we use an average of the post-CDM deal Q2 and Q3 2018 DCF figures of $47.5M and $51.4M, respectively, that gives us an average DCF of ~$49.45M/quarter.
We compared and extrapolated that $49.45M DCF average to the Q3 '18 total cash distributions of $47.02M, which were higher than the Q2 '18 total of $43.5M.
If USAC's DCF and total distributions stay flat, we should see 1.05X coverage in 2019. This is without the benefit any cost savings, or additional revenues from price hikes.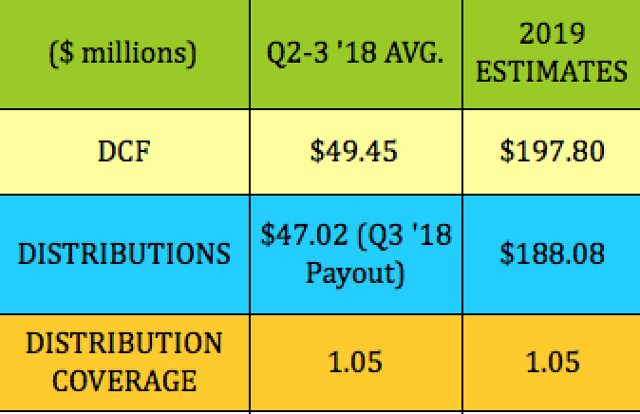 Fleet Utilization:
Fleet horsepower was over 3.6M, as of 9/30/18, an increase of more than 53,000 horsepower vs. Q2 '18. Active horsepower increased 61,000 to over 3.2M, up ~2% over Q2 2018.
Another positive is that management has been able to redeploy ~353,000 horsepower of idle horsepower from the combined fleets at nominal additional capex costs. (CDM's fleet had a lower utilization rate.) Most of its idle equipment is in the small horsepower category – long before the CDM deal, management had been shifting USAC's emphasis toward large horsepower equipment.
USAC has had a very stable fleet utilization rate of ~93% for more than a decade: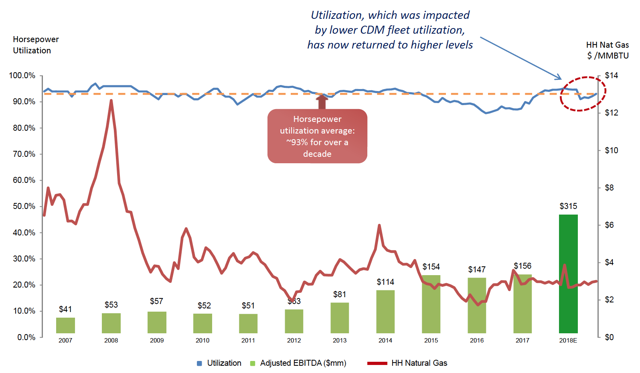 (Source: USAC site)
Guidance vs. Performance:
Management narrowed its full-year 2018 adjusted EBITDA guidance range to $310 – $320M, and its 2018 DCF guidance range to $170m – $180M.
We pro-rated this 2018 guidance to three quarters to get an idea of USAC's actual Q1 '3 '18 results compare to the guidance. So far, EBITDA looks roughly in line with the low end of 2018 guidance, while DCF is ~4% above it.

Risks:
Natural Gas downturn – If there's another protracted downturn in the energy patch, this could lead to a cutback in rigs, and potential demand for compression services, even the large units, which are in tight demand now.
Unlike crude oil, which has had a rough go of it in 2018, natural gas futures are up 34% over the past month, and 46% year to date in 2018. However, producers need compression to get their product out of the ground, which gives USAC a cushion in energy cycles, as its fleet utilization has had a strong, long term record of 93% utilization.
IRA Holders – Holding an LP in an IRA may result in tax complications for IRA holders due to UBTI. You'll also get more tax deferral advantages from investing in USAC in a taxable account. You should consult your accountant about these aspects of investing in LPs.
Valuations:
At $13.50, USAC is less than 5% above its 52-week lows – its price hasn't been this low since April 2016. It's also selling at .85x of book value, and its price/DCF is one of the lower valuations we've seen recently.

Analyst's Price Targets:
That $13.50 price puts it nearly 26% below analysts' lowest price target of $17.00, almost 44% below the $19.43 average price target.

Insiders Are Buying:
Management just upped its skin in the game last week – they bought 45,000 units at a price range of $13.40 to $13.90.

(Source: finviz)
Financials:
Due to negative net income, which includes heavy non-cash depreciation and amortization charges, USAC has negative ROA and ROE valuations.
The interest coverage factor of just .69X looks poor, when compared to the 1.45X average, but, again that includes a great deal of non-cash depreciation and amortization charges.
USAC's EBITDA/Interest coverage factor for Q1-3 '18 was 4.49X.

Debt and Liquidity:
"As of September 30, 2018, the Partnership had outstanding borrowings under the revolving credit facility of $1 billion, $578.2 million of borrowing base availability and, subject to compliance with the applicable financial covenants, available borrowing capacity of $309.7 million. As of September 30, 2018, the outstanding aggregate principal amount of the Partnership's 6.875% senior notes was $725 million."

(Source: USAC site)
USAC's Credit Agreement has an aggregate commitment of $1.6B, with a further potential increase of $400M, and has a maturity date of April 2, 2023.
Its 6.875% senior notes Senior Notes mature on April 1, 2026.
Options:
We have options picks for USAC in our Double Dividend Stocks service, which we can't divulge here, but you can see trade details for over 25 other option-selling trades in our Covered Calls Table and Cash Secured Puts Table.
Summary:
We rate USAC a long-term buy. Demand for its natural gas compression services isn't going away any time soon, just the opposite. USAC has a strong position in its niche industry, and is well-positioned to benefit from increasing demand for large-scale horsepower compression.
All tables furnished by DoubleDividendStocks.com, unless otherwise noted.
Disclaimer: This article was written for informational purposes only, and is not intended as personal investment advice. Please practice due diligence before investing in any investment vehicle mentioned in this article.
CLARIFICATION: We have two investing services. Our legacy service, DoubleDividendStocks.com, has focused on selling options on dividend stocks since 2009.
Disclosure: I am/we are long USAC.
I wrote this article myself, and it expresses my own opinions. I am not receiving compensation for it (other than from Seeking Alpha). I have no business relationship with any company whose stock is mentioned in this article.